The doctor walked into the room looking grave, "Mary, let's go over these test results together…" Over the last couple of weeks, Mary had noticed some alarming changes…
She wasn't as balanced as she used to be and found herself tripping over the slight edges of carpets or when lifting her feet to go up a staircase..
Her lower back and hips constantly ached, making her uncomfortable throughout the day and unable to sleep at night…
And it might sound crazy, but she was starting to feel… shorter?
She knew whatever was happening wasn't going to go away on its own…
But was still shocked & confused when her doctor shared the results of her bone scan: "Osteopenia."
Immediately, questions began to race through her mind…
What in the world is osteopenia?
How is it different from osteoporosis?
And most importantly—what do I do about it?
If You've Been In Mary's Position, You Know How She Felt At That Moment…
And you're not alone -- this devastating bone condition affects over 47 million Americans today.
Fortunately, just two years later, Mary was able to say…
"The scan I had today showed NO osteopenia!
I didn't take ANY medications…
Really, I only started doing ONE thing differently, so that must've been what it was!"
And she's not the only one that's noticed a DRASTIC improvement: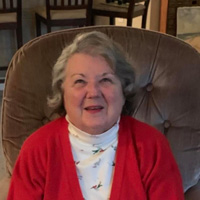 "
I would say that the #1 reason I started was to help the soreness in my knees.

I do believe putting this in my coffee has helped not only my knees but general well being.

I began several years ago with one scoop but recently in 2021 began putting two scoops in my morning cup of coffee… Doing well at 86 years but cannot say how I would be without it. Don't intend to stop!
Mary Helen Jost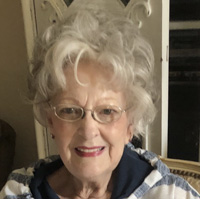 "
I'm 73-years-young, and after doing this for two weeks, I've already noticed weight loss, stronger nails, less hair loss, my skin is healthier, very little bruising when I bump into things, moisturizing hands & face enhanced.

My DEXA (osteopenia) has begun improving, my digestion has gotten better, and I'm already feeling more energized!!

I can hardly wait to see how I'll feel in two more months!!
Judi Copley-Eyrick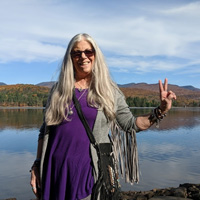 "
I have osteopenia, but I have been making this one change for a month now and notice I can walk 5 miles uphill without muscle or knee aches...

Nothing else has worked like this before!
Nancy Monta

But before I tell you more about the one wondrous solution these women used to not only REBUILD their bones…
But also improve their balance…
Strengthen supporting muscle & tissue…
And ERASE their fears of falls, broken bones, and lost independence…
Let's Answer One BIG Question:

What IS Osteopenia?

We break it down like this:

'Osteo' means "related to bones" and 'penia' means "poverty."

Thus, osteopenia (like osteoporosis) tells you you have "poor bones."

Bone mineral density (BMD) is how this is measured…

Telling you the strength and thickness of your bones...

And even more crucial: whether they're at risk of future fractures.

You can think of bone mineral density as a slope — with the top being standard (healthy bones) and the bottom being osteoporosis (unhealthy bones).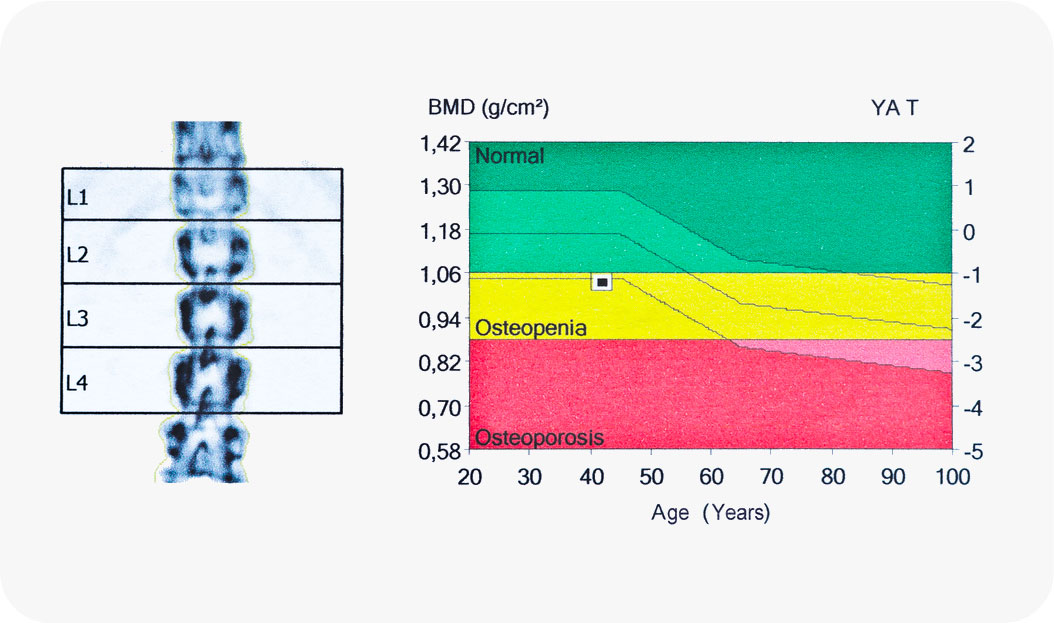 Osteopenia, which affects more than 52% of women over 50, falls somewhere in between.
Unfortunately, women are more susceptible to developing osteopenia due to menopause & lowered estrogen levels.
You learn about your bone density by getting a DEXA scan—a dual-energy X-ray absorptiometry.
It's an inexpensive, noninvasive, 10-20 minute test that helps diagnose bone-related health conditions…
And The National Osteoporosis Foundation recommends that you have one regularly if you're:
a woman age 65 or older
younger than 65, postmenopausal, and have one or more risk factors
postmenopausal and you've broken a bone from normal activity, like pushing a chair to stand up or vacuuming
Upon receiving your DEXA scan results, you get a "T Score" which compares your BMD to a healthy 30-year-old of the same sex.
The following chart can help you understand what it means.
Normal: Greater than or equal to -1.0
Osteopenia: -1.0 to -2.5
Osteoporosis: Less than or equal to -2.5
Severe Osteoporosis: Less than or equal to -2.5 (plus fragility fracture)
The Good News Is, Osteopenia Is
Classified as a CONDITION, Not a Disease…
And with a tiny tweak to your routine -- it is possible to stabilize your bone density and reduce your risk for bone fractures…
In essence, it is possible to REVERSE osteopenia.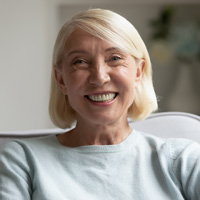 "
I'm 72-years-old. After two years and two scoops of this in my coffee a day, my doctor told me last year I no longer have osteopenia 🎉.
Sandy Dufour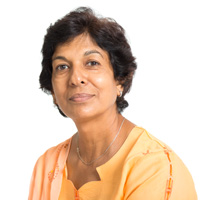 "
I recently had an osteoporosis test. My bone density was quite a bit higher than 10 years ago. I have been taking this for about 3 years. I was so surprised when I got my test results. This WORKS!
Anita Sayle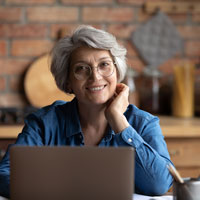 "
I made this change about 2 years ago. Last April, I was in a pretty horrific car accident and had a broken sternum that they were impressed that at my age of 65 was a straight break and healed in about 3 weeks! They were also blown away by the fact that my collarbone was not broken or even cracked, and they were impressed with how strong my bones were at my age!!
Robin Doll

So, Why Does This Happen?

And What Can YOU Do To Stop It?

Plain and simple, the cause of osteopenia comes down to one thing: Aging.

Although there are a variety of factors that can speed up the process…

Like an estrogen deficiency, lack of resistance exercise, low collagen or vitamin D, etc.…

Aging is the most common factor in the equation -- and something you obviously can't avoid.

As you can see from the image, even a healthy bone is porous.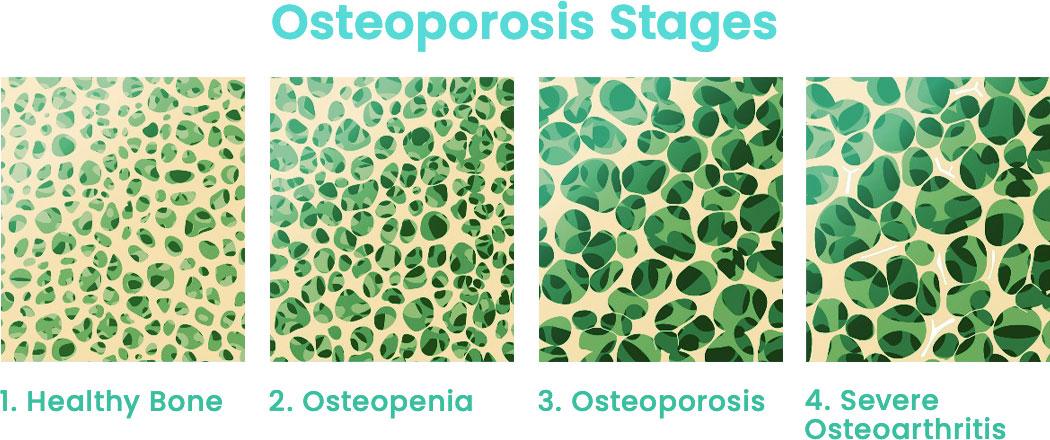 Throughout your life, your body is constantly absorbing and replacing bone tissue…
But once your bone mass peaks at around age 30, your body breaks down old bone faster than it creates new bone.
This means you lose more and more bone density with each passing year.
This is when osteopenia—and if unmanaged, osteoporosis—comes into play.
Thus, what your bones need is bone-building support.
The Simplest Way To
Get That Support, You Ask?
Grass-fed collagen powder.
Collagen is the most abundant protein in your body — making up 33% of it.
However, once you hit about 25 years of age, collagen production begins to slow — declining by 1% with each passing year.
This means that by the age of 50, your collagen levels are slashed by HALF...
And one of the tell-tale signs of low collagen levels is
joint pain, back pain, and weak bones…
Just like Mary (and maybe you have) experienced.
The good news is, when you take a collagen supplement daily,
you're equipping your body (and bones) with what it needs to restore that bone loss…
Yes, it's that easy -- and scientific studies prove it!
3 Science-Backed Ways Collagen


Supports Bone, Joint & Muscle Health

Prevent Bone Loss

Our bones are made mostly of collagen, which gives them structure and helps keep them strong.

As collagen levels deteriorate with age, bone mass does too, leading to crippling mobility concerns including severely low bone density and higher risks of bone fractures.
Bone mass

and

Age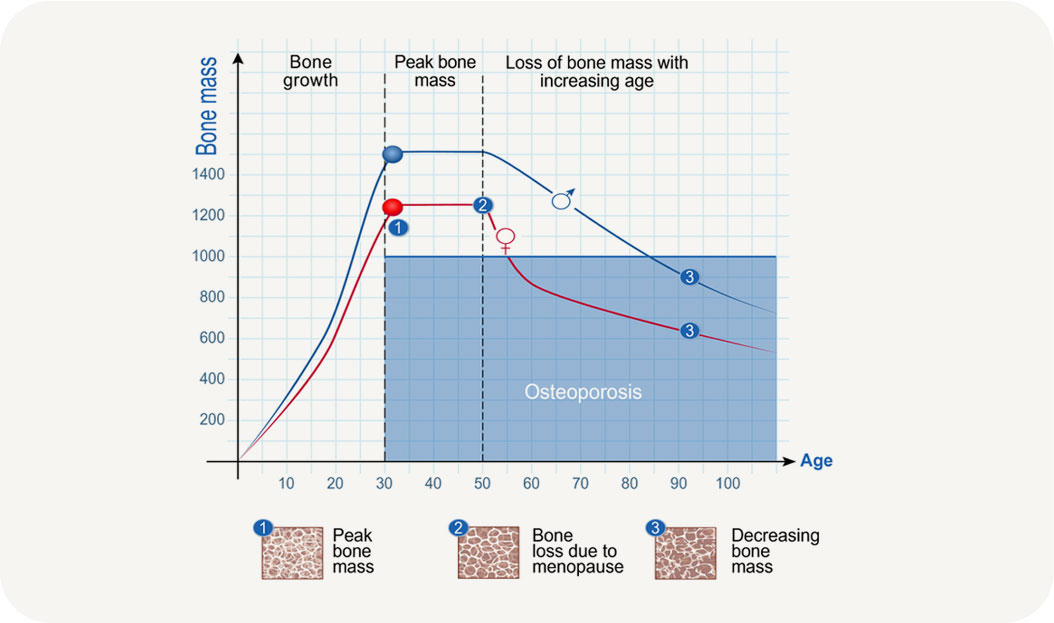 Studies have shown that taking collagen supplements may have certain effects in the body that help inhibit the bone breakdown.
In one study that looked at bone health in 103 postmenopausal women, 66 women were given 5 grams of collagen daily for 12 months. The women who took the collagen had an increase of up to 7% in their bone mineral density (BMD), compared to women who did not consume collagen.*
According to this study, collagen supplementation was associated with a favorable shift in bone markers, indicating increased bone formation and reduced bone degradation.
SUMMARY:

For

stronger, healthier bones,

research shows that at least 12 months of daily collagen supplementation (5 grams/day) is required.
Relieve Joint Pain
Collagen helps maintain the integrity of your connective tissues such as our joints, muscles, and cartilage, which is the rubber-like tissue that protects your joints.
As the body's collagen levels decrease with age, the risk of developing degenerative joint disorders increases.
Some studies have shown that taking a collagen supplement may help improve symptoms of joint disorders and reduce joint pain overall.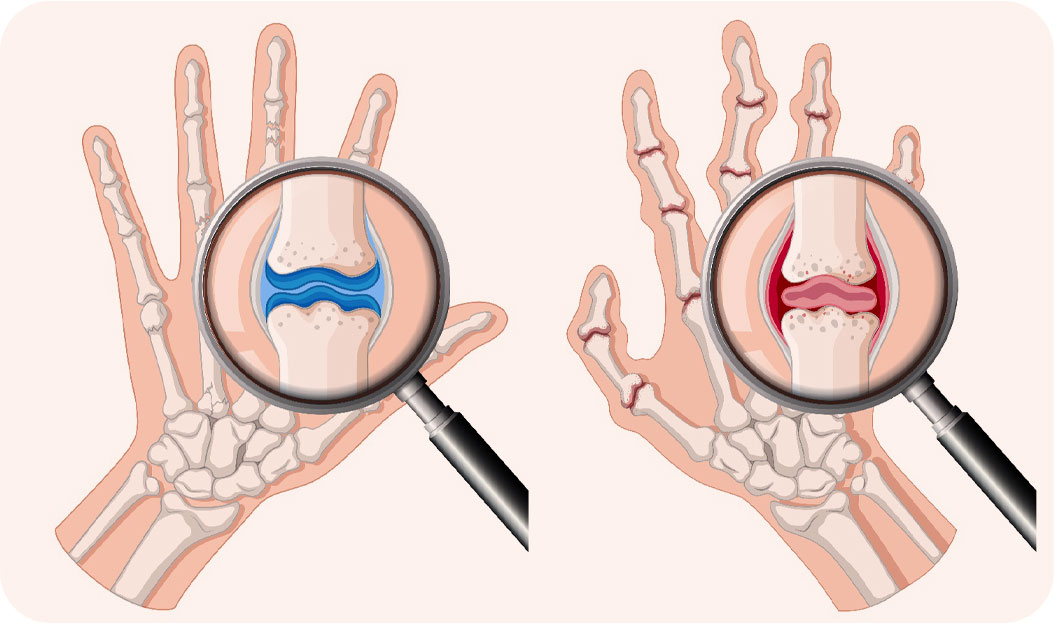 In one study, 73 participants who consumed 10 grams of collagen daily for 24 weeks experienced a significant decrease in joint pain while walking and at rest compared to a group that did not take it.*
SUMMARY:

For improved joint health and relief from joint-related pain, research shows that at least 24 weeks of daily collagen supplementation (10 grams/day) is required.
Strengthen Muscles
Between 1–10% of muscle tissue is composed of collagen. This means that collagen protein is vital for keeping our muscles strong and functioning properly as we age.
Studies suggest that collagen supplements help boost muscle mass in people with sarcopenia, the loss of muscle mass that happens with age.*
In one study, 27 participants took 15 grams of collagen for 12 weeks. Compared to participants who did not take collagen, they gained significantly more muscle mass and strength.* This research shows great promise for helping older individuals maintain their independence as they age.
SUMMARY:

Research shows that

12 weeks of daily collagen supplementation (15 grams/day)

yielded improvements in muscle mass and strength.
Other Medically Proven
Benefits of Collagen
Enhance Skin Complexion & Reduce Wrinkles
Collagen plays a role in strengthening skin, plus may benefit elasticity and hydration. With age, the body produces less collagen, leading to dry skin and the formation of wrinkles.
However, several studies have shown that collagen supplements may help slow the aging of your skin by reducing wrinkles and dryness.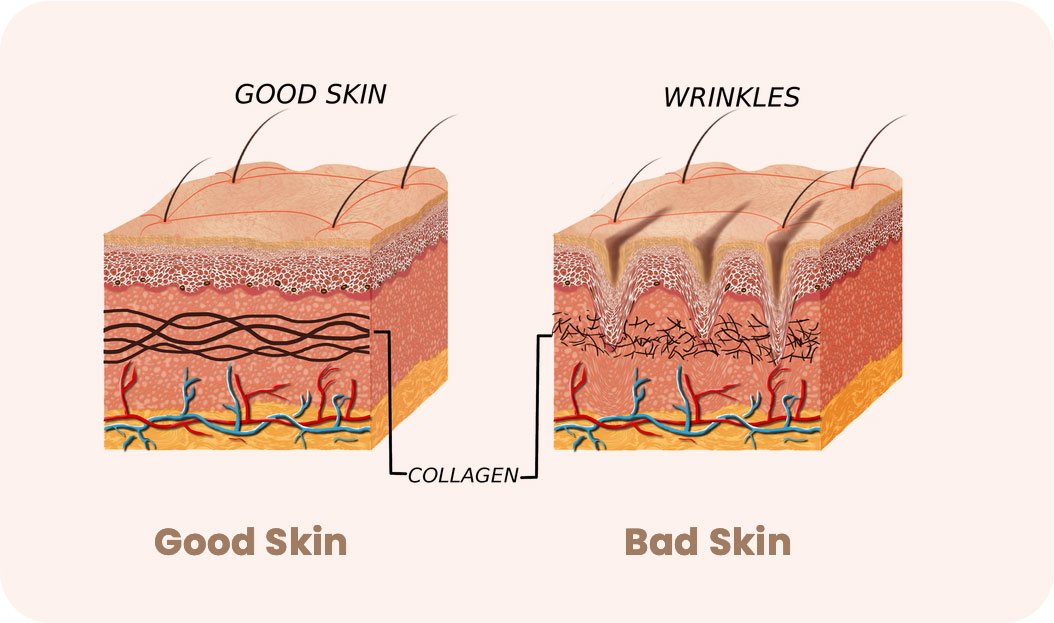 One study found that women who consumed a collagen supplement daily for 12 weeks experienced increased skin hydration and a significant reduction in wrinkle depth compared to a control group.*
SUMMARY:

While modest skin benefits can be seen in 8 weeks, for major improvements in skin health including reduction of deep wrinkles, research shows that

at least 12 weeks of consistent daily collagen supplementation

(5 grams/day) is required.
Improve Hair Health & Slow
Follicle Thinning
makes up 70% of your dermis, the middle layer of your skin that contains the root of each individual hair. Therefore, providing the body with collagen may help maintain a healthy dermis and prevent hair thinning.
In an eight-week study, 69 women aged 35–55 found that taking a daily collagen supplement significantly improved dermis elasticity and hydration compared to a placebo, translating to enhanced overall skin & hair health.*
SUMMARY:

When it comes to improving hair health, research shows that at least 8 weeks of consistent daily collagen supplementation (5 grams/day) is required for results.
Promote Heart & Artery Health
Collagen provides structure to your arteries, the blood vessels that carry blood from your heart to the rest of your body. Without enough collagen, arteries may become weak and fragile.
In one study, 31 healthy adults took 16 grams of collagen daily for six months. By the end, they had experienced a significant reduction in measures of artery stiffness compared to before they started taking the supplement.*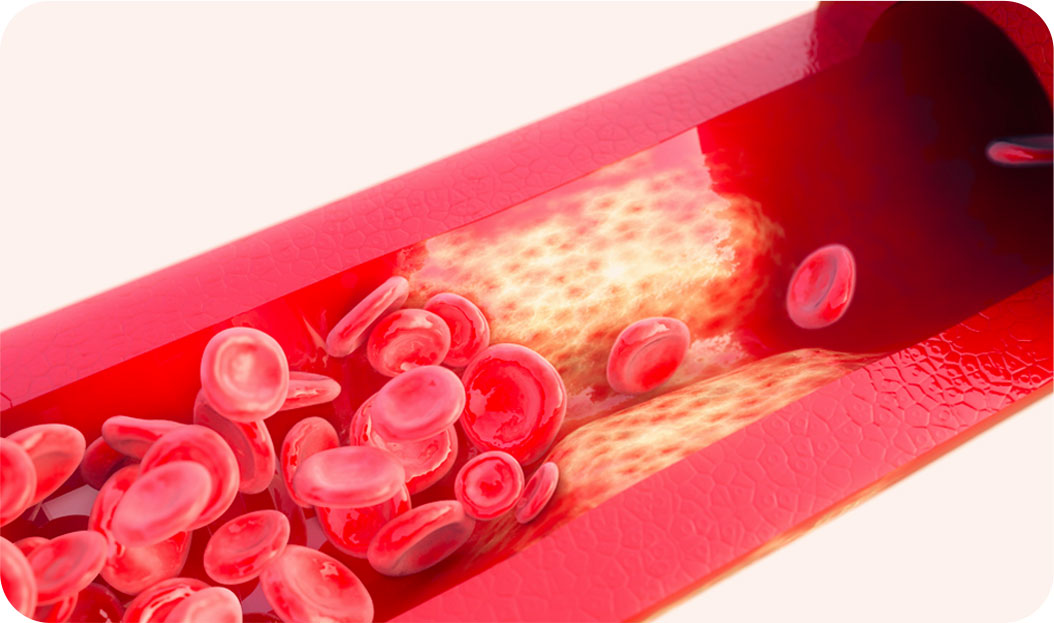 SUMMARY:

According to research, 6 months of daily collagen supplementation (16 grams/day) was shown to elicit positive results for promoting heart health.